Over the summer, there was an incredible amount of money spent on players shifting clubs. The biggest deals include Gareth Bale joining Madrid (€100 mil), Radamel Falcao joining Monaco (€60 mil), Neymar to Barcelona (€57 mil), Edinson Cavani to PSG (€67 mil), Mesut Ozil to Arsenal (€45 mil) and Peter Odemwingie to Cardiff City. OK, maybe not the last one. But at least he did get transferred this time instead of just hanging around a stadium in the hope that someone signs him.
I'll start off with Serie A, and Juventus strengthened their strike-force with Carlos Tevez and Fernando Llorente while the criminally under-rated-on-these-shores Alessandro Matri joined league rivals AC Milan. Speaking of the Rossoneri, they brought Kaka back to the San Siro on a free – four years after they sold him to Madrid for €65 million. Nice!
Roma brought in the likes of Gervinho, Adem Ljajić and Kevin Strootman but lost out on stars such as Marquinhos, Bojan, Erik Lamela and Pablo Osvaldo. Interesting times ahead in the eternal city. Whatever happened Inter? They slipped off the radar in recent times. Didn't they win the Champions League not long ago?

In Spain, Neymar was dominating all the headlines for months. Until a certain Welshman joined a certain club from the capital. Real weren't afraid to splash the cash as they also purchased Asier Illarramendi and Isco. City rivals Atlético Madrid got David Villa from Barcelona for the bargain price of around €5 million. They also got Argentine defender Martín Demichelis from Malaga. But he stayed for all of five minutes before departing for Manchester City. Who says loyalty is dead in football?
European champions Bayern Munich signed not only a new coach in Pep Guardiola, but they also acquired the much-sought-after playmaker Mario Götze from rivals Dortmund. Barcelona midfielder Thiago also joined the side, pairing up with his former manager from Barça.
Borussia Dortmund signed Liverpool target Henrikh Mkhitaryan last month, but one can't help but feel there will be a massive Götze-shaped-hole in Jurgen Klopp's midfield. It'll still be between the two sides in the Bundesliga, but how will Pep fare? As I said before, the only way is down.

Finally in England, and £624,560,000 later, it was non-stop in the Premier League. Tottenham and Liverpool made some interesting signings with Spurs bringing in Paulinho, Erik Lamela, Roberto Soldado and (one of my former ones-to-watch) Christian Eriksen. Liverpool brought in the Spanish duo of Luis Alberto and Iago Aspas. Along with the Simon Mignolet, Kolo Toure and PSG starlet Mamadou Sakho, Brendan Rodgers' side will certainly be fighting alongside AVB's men for a Champions League place.
Transfer deadline day was an interesting one. I believe Arsenal got the star signing in Ozil, but Man United done well bringing Marouane Fellaini to Old Trafford. And £27.5 million is quite an amount for him. But is he worth it? In footballing terms, yes. United however faced some unusual situations – such as getting the signature of Ander Herrera from Bilbao. One minute he was ready to put pen to paper, the next it was all off with various reasons as to why.
This was then followed with news of signing of Real Madrid left-back Coentrao on loan – followed by reports that the deal had not in fact gone through. At least they got Fellaini.

Manchester City and Chelsea surprised nobody by splashing the cash on Fernandinho, Jesús Navas, Álvaro Negredo, Stevan Jovetić (Man City) and André Schürrle, Willian, Samuel Eto'o (Chelsea). But Chelsea did surprise everyone by hanging onto Fernando Torres. Surely he is surplus to requirements at Stamford Bridge? The Special One has decided to hang onto for now him anyway. Same goes for the frankly brilliant Juan Mata who was rumoured to be joining either PSG or Liverpool. But he's still a Chelsea player. For now.
Everton may have lost their star player, but along with the hugely-promising Gerard Deulofeu and Arouna Koné, on deadline day they snapped up our very own James McCarthy on a permanent deal as well as Man City midfielder Gareth Barry and Romelu Lukaku. There is life after the afro'd one, Evertonians.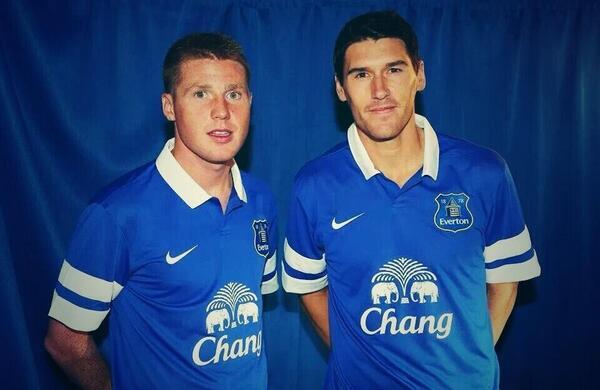 Other Irish players that moved in the window include Keith Andrews (Brighton), Stephen Ireland (Stoke), Enda Stevens (Notts Co), Noel Hunt (Leeds) and James McClean (Wigan). No move for Robbie Keane to (another) boyhood club then. That joke really is old.
Phew. That's the transfer news until January.
Who were your favourite signings this summer? Tell Rob Smith on Twitter (@robsmithireland)