QPR say goodbye to Premier League football. And if I was a betting man, I'd say that it will be highly unlikely that Harry Redknapp will be managing QPR – or indeed any team – in the Championship next season. The London side may have been relegated yesterday, but it doesn't take a genius to figure out that Harry won't be going down with them.
The 66-year old is a fine manager. Premier League material and has the potential guide any club in the right direction. Why didn't it work at QPR? Redknapp himself admitted that some of the high-paid players were the subject of jealousy from some other players causing a division.
"There are splits in the camp," he said. "I'd be liar if I said there wasn't, it's been obvious for everyone to see all year. It's a problem".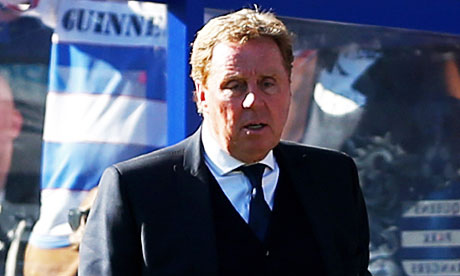 Though Redknapp has given interviews about the future with QPR in the Championship, I would be highly surprised if he does down with them.
So if he leaves Loftus Road where could he go?
Well at this time we can only speculate, but I'd keep a close eye on what goes on at St James Park. Following Newcastle's 6-0 demolishing at the hands of a Suarez-less Liverpool on Saturday – the Magpie's heaviest home defeat in 87 years – current boss Alan Pardew even admitted that his future is completely out of his hands.
If Pardew's time with Newcastle is up, would it be the perfect replacement for the club to install Harry Redknapp as new boss. Don't be so surprised if that happens.
Then again, the game in England is predictably unpredictable. Harry wouldn't end up at Chelsea and The Special One could go to Arsenal or Liverpool? Surely not? You never know – who would have thought that Rafa Benitez would one day manage Chelsea?
Do you think Harry Redknapp will become manager of another Premier League team? Or will he go to the Championship with QPR? Let Rob Smith know on Twitter (@robsmithireland) and be sure to check us out on Facebook (/FootballElMundo)