Part 1 of this blog post appeared almost a year ago. A year you say, Rob? Don't worry, I didn't forget about part 2. In that edition I featured some beautiful grounds from Lima to Tashkent. Let's have a look at some other gorgeous stadia that you may not be familiar with.
Stade des Martyrs, Kinshasa, Congo DR.
The home ground of the National Team of the Democratic Republic of the Congo as well as local sides AS Vita Club and DC Motema Pembe, this ground has an official capacity of 80,000 spectators. Though it has been known that up to 100,000 people get inside the ground on certain matchdays. This leads me to believe that health and safety isn't a massive issue. It's still a fine stadium and indeed one of the finest in the entire continent of Africa.

Hásteinsvöllur, Vestmannaeyjar, Iceland
Some of the greatest stadia aren't always the biggest. This one is quite the opposite. The 950 capacity ground is based on a small island just off Iceland's south coast. The weather dictates games, not necessarily on the pitch, but on the ferry which brings players and some fans to the ground. David James, of all people, currently plies his trade there with club IBV. Miss the ferry and you could be stuck on the island for days. But you must admit – it is one of the most naturally scenic grounds in the world.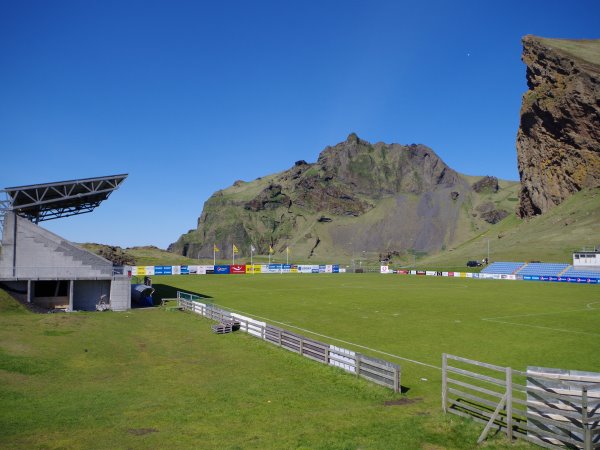 Nou Sardenya, Barcelona, Spain
While everyone in the world knows the Camp Nou, the Olympic Stadium, or Espanyol's Estadi Cornella, there is another stadium in the fine city of Barcelona. One located in the city itself CE Europa can boast the 7,000-capacity Nou Sardenya. Complete with its own impressive grandstand (and the fanbase to fill it), the stadium is a hidden gem. If you have ever done the touristy thing and visited Park Güell in Barcelona, you could have easily walked past it.

Parque do Sabiá, Uberlândia, Brazil
While this 53,000-capacity stadium is the home ground of Uberlândia Esporte Clube and Clube Atlético Portal, it is a classic South American ground fit for any team. It's just a shame a stadium this beautiful hasn't entertained any of Brazil's top teams for a number of seasons and, located about a thousand kilometres from the Marcana in Rio, the national team don't use it much at all. Though they did in 1982 for the ground's inaugral game. Against the Republic of Ireland. And they won 7-0. Seven. Ugh.

Let Rob Smith know of your stadium gems that he may not know of on Twitter (@robsmithireland)