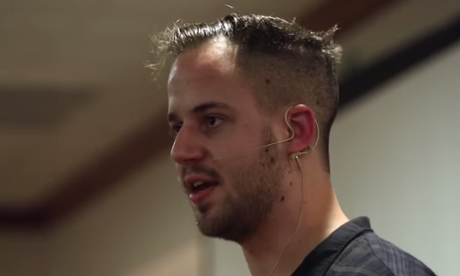 Julien Blanc, a so-called "pick up artist" has had his Australian tour cut short and his visa revoked. Protests have dodged Blanc's tour and many venues had already cancelled their bookings. Australia's immigration minister Scott Morrison waded in and cancelled the visa calling Blanc's schtick "abuse" and "derogatory to women." It is.
I don't have an issue with "game" as a general rule. There is nothing wrong with wanting to be better at meeting women or trying to make yourself more attractive to the opposite sex. Not everyone is naturally socially confident or drop-dead gorgeous, but there are things you can learn that go a long way to help. I was a shy, awkward teenager but I learnt to fake confidence — and eventually got confident — because I wanted to meet boys.
Some of the advice, such as that given in Neil Strauss' best-selling book, The Game, is pretty sensible and not that different from the tricks I used myself. These include paying attention to your grooming; having something interesting to say, even if you need to prepare it beforehand; finding out where interesting parties or events are happening; not worrying too much about rejection and accepting it graciously; and generally being the kind of person other people — men and women — want to spend time with. Strauss also advices not starting with a sexual come on, but rather making friends with everyone in the group, and building rapport with them and the person you fancy, before escalating to the next level. Not exactly revelatory stuff — it's the kind of advice your mom would give you — and it is hard to monetise that.
As with many things in life, money causes the problems. After the success of Strauss' book, the PUA scene exploded and people realised there was money to be made. Men pay hundreds, sometimes, thousands of dollars to attend seminars or bootcamps with well-known PUA coaches. But it is a crowded field, and each PUA coach has got to have a unique approach to distinguish himself from the herd. Some of the advice is straight-up ridiculous; some of it is close to advocating rape.
Blanc works for a company called Real Social Dynamics. RSD grew out of Project Hollywood, the house Strauss shared with his PUA coach Mystery. RSD is a company. Like most companies, it is dedicated to making a profit. But since the advice dispensed by the original PUAs like Mystery and Strauss is widely available in cheap paperbacks or on the net, nobody is going to pay for it.
Julien Blanc's PUA advice is to grab a woman and force her head towards your crotch. Until recent days he was tweeting using the hashtag #ChokingGirlsAroundtheWorld. That's not "game" — that's sexual harassment. Grabbing someone and not letting go is assault. Some of his defenders argue that Blanc spent time talking to the women before doing this. That doesn't make it better — it's still sexual harassment.
Blanc is a racist, sexual predator who advices men that, "In Tokyo, if you're a white male you can do what you want." Here's a clip of his seminars. At the end you'll get to see Blanc in action. None of the women look pleased. Their body language says it all — pushing away or hunched up as small as possible to minimise physical contact with him.
When women complain about "rape culture" this is the kind of thing we mean — normalising sexual harassment and aggression as pick up techniques. Where Strauss advices being charming, Blanc suggests assault. There's a world of difference there.