Never mind Cantona, Klinsmann, Henry or Ginola. In the Premier League's history, it has produced many a memorable imported player. But it's also had it's fair share of big names that you forgot played in Blighty and briefly – very briefly – were the focus of the media.
1. Karl-Heinz Riedle.When Borussia Dortmund were crowned European Champions in 1997, the hero of the hour was striker Karl-Heinze Riedle. Later in that same year, Riedle was transferred to Liverpool where he featured irregularly thanks to the enormous rise of one Michael Owen. A move to Fulham in 1999 followed by a short stint as coach and the German striker's time in England could be best described as luckless. It's not the way a serial Bundesliga winner and World Cup winner usually ends their career. He now runs a hotel in Germany.

2. Nicola Berti.
Inter Milan fans know Berti very well. He's something of a club legend around the San Siro. The Italian midfielder enjoyed ten seasons with Inter Milan before joining Tottenham in 1998, people sometimes forget the midfielder and World Cup runner-up played briefly in England. Yet, despite Spurs playing some terrible football in his one season at White Hart Lane, Berti was a decent signing – he played really decent football and he even scored 3 times for Spurs. But the Italian decided that La Liga was to be his next destination the following year, signing for Alaves. Perhaps it was the London weather.

3. Fernando Hierro.
Hierro, the captain of Spain, was to Real Madrid what Sergio Ramos is to the club now. A rock-solid defender, loyal to the club. He was consistent, if anything, in his 14 years at Los Blancos. When the Madrid hierarchy released Hierro (along with future Spain coach Vicente del Bosque) in 2003, he spent one season earning a ridiculous amount of money with Al-Rayyan in Qatar before making Lancashire his home, joining Bolton Wanderers. Teaming up with former team-mate Ivan Campo, Hierro was as solid for Bolton as he was for Madrid. But one season was all he could manage as he announced his retirement in 2005, much to the disappointment of the Bolton faithful – and manager Sam Allardyce.

4. Sylvinho
For a player that won the Champions League twice, La Liga three times, the Copa del Rey and numerous titles in his native Brazil, Sylvinho enjoyed two stints in England – both of which seemed to be very quiet for a player as decorated as him. First up was Arsenal, who signed him from Corinthians in 1999. A decent left-full, he was admired by the Gunners' faithful for his wonderful style of play (and the occasional cracking goal), but his performances were always overshadowed by Arsenal's stars such as Henry, Vieira, Bergkamp and Ljungberg. With the emergence of Ashley Cole, Sylvinho spent most of 2000 and 2001 on the bench and was eventually sold to Celta Vigo before enjoying a hugely successful time with Barcelona under both Frank Rijkaard and Pep Guardiola, he returned to England in 2009 joining the newly-rich Man City. Decent good performances, his limited appearances for City witnessed the Brazilian leave the club in 2010, before officially retiring a year later. He may have made little impact in England, but his trophy cabinet isn't exactly empty.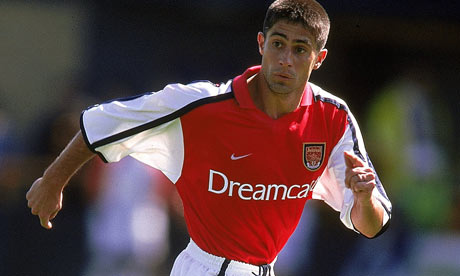 5. Hernan Crespo.
When you think of Crespo, you think Inter Milan, AC Milan, Argentina, stunning goals,  a world record transfer. You don't really think Chelsea. But, yes, the Argentinian wizard spent a short stint in London with the Blues joining from Inter Milan. He never really settled in the area and, with the arrival of The Special One, Crespo was deemed surplus to requirements after one poor season and was promptly loaned out to AC Milan (he played in the 2005 Champions League final for the Rossoneri scoring twice before Liverpool's huge comeback) – and later rivals and former-club Inter Milan. Chelsea paid just under £17 million for the Argentine and in return got 12 goals. Not exactly value for money. But that's nothing new for Chelsea. See also Fernando Torres and Andrei Shevchenko. Oh yeah, remember Sheva played in England too?

Who is Rob Smith forgetting? Let him know your top foreign talents that he may have forgotten via Twitter (@robsmithireland) and be sure to check us out on Facebook (/FootballElMundo)