A significant amount of Chelsea fans stood against the appointment of Rafa Benítez as interim manager last November. The Spaniard, who managed Liverpool from 2004 until 2010, once criticised the club under José Mourinho some years before while managing the reds. Many Chelsea fans let everyone know – Rafa especially – that they did not want his sort around Stamford Bridge.
The banners unveiled at Chelsea's games – often colourful in language – let Benítez know that, despite being in a temporary position, he shouldn't be in that position. But he kept his head down and his dignity, focussing on the job ahead. As the months passed, he turned many of the boos into cheers and fast-forward to last Wednesday's Europa League final, and he provided Chelsea with their 11th major trophy in ten years under the ownership of Roman Abramovich.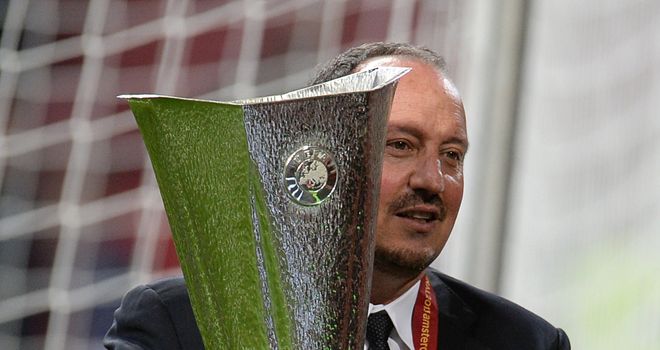 Benítez, who won the Manager of the Month award last month, leaves Stamford Bridge with a Europa League winner's medal and his head held up high. The fact that he has succeeded in the face of such acrimony and hostility has earned him a lot of respect – including from a large portion of the "Rafa out" brigade.
As Benítez says his goodbyes to the Blues, one David Beckham will say his goodbyes to the game itself. The former England captain will step down at the age of 38, after the season with current club, PSG, has come to a close. His final game will be for newly crowned Ligue 1 champions PSG against Lorient (not Leyton Orient as remarkably many had thought) on May 26th.
"It's a good way to go out. It's every athlete's dream, every footballer's dream – to go out on the top. On top form, or winning a trophy," the former Real Madrid, Man United and LA Galaxy star said. "It doesn't happen that often. I've been lucky."
Beckham's 21-year career also witnessed him win numerous trophies such as six Premier League titles, two FA Cups, the Champions League, one La Liga and Supercopa de España winner's medals alongside the Galacticos, as well as two MLS cups. A complete success both on and off the pitch, I wish him well with his future. He may not be the last Beckham to go all the way in football.
What do you think of Rafa Benítez's tenure at Chelsea, and what is your fondest memory of David Beckham? Let Rob Smith know on Twitter (@robsmithireland) and be sure to check us out on Facebook (/FootballElMundo). Have a nice weekend, folks.