Electric Avenue in Waterford saw the final Mainline performance on Saturday night. After long-standing line-up difficulties, the band have decided to call time on the existing endeavour and reincarnate as The Brothers' Movement.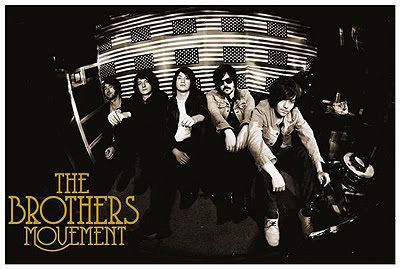 Their online statement explains:
The direction in which we wish to go with our music cannot be accommodated within Mainline so with line up changes and a new direction being forged we will be playing under the name The Brothers Movement.

Under this new name we will be bringing you our debut album due out this year and hope that all of you will stay with us and support us in what we are trying to achieve as The Brothers Movement.

we have set up a new home on myspace @ www.myspace.com/thebrothersmovement stop by and check out some demos from the new album.

We would like to say a big thank you to each and every one of you who has shown support and love to Mainline and we hope you will continue with us on our journey as The Brothers Movement.
The existing Mainline band-mates look set to move forward with the introduction of "Brother" Dan Parsons providing percussion, vox, guitar, piano and organ, certainly a promising addition. This injection of fresh talent coupled with their Brothers' Movement sound dubbed as 'rock/experimental/psychedelic' in description, one up from the rock/psychedelica of Mainline means the band obviously feel there's still a ways to go before we see the last of them.
Two new album-demos on the MySpace player are waiting to launch your new opinion although it's not yet clear if TBM will retain the back catalogue of Mainline songs like Where The Ghosts Meet and 52 Strings.
(On a side-note, Mainline have three songs free to download from their old player so grab 'em now while they're still up.)
Good luck, brothers!