December 20th, 2007 by donaltest1
….And I think to myself….what a wonderful world!
Lots of generous musicians have truly entered into the spirit of Christmas this week by deciding to give something back to those who've supported their music this year.
Bring on the cover versions!
Le Galaxie – Do They Know It's Christmas
Juno Falls – White Christmas
Queen Kong – Twelve Days of Christmas

James O'Toole take note! Bats' EP Cruel Sea Scientist was released last week and spam-bulletins have been non-existent. Instead they post little bits and pieces of furry-faced fun, like this short'n'silly YouTube vid for the lovers of their their leather-winged thing. While you're at it, check out their brand new website too. They do the art thing so well…

And while they ain't gifts as such, Dark Room Notes want everyone to know that t-shirts will be available from their Whelans gig with Lauren Guillery and the Claws tomorrow night. 
Also tomorrow night: Death Via SantaClaus!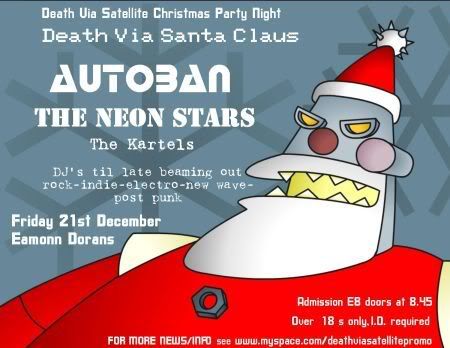 In the meantime, tonight is the night when that frantic gig-spirit really kicks off fine-stylee. You can take your pic from any of these shows:
Belfast: Kowalski – Two Step, Polemics – Pavilion Bar
Dublin : Les Bien at The Hub, The Rags at the Button Factory, Lauren Guillery at The Globe, Redneck Manifesto at Whelans
Galway: Only Fumes and Corpses & The Ghostwood Project (GSPCA fundraiser) – DeBurgos. GiveAManAKick – Roisin Dubh
Limerick: Declan O'Rourke
Louth: Paddy Goodwin and the Holy Ghosts (Rape Crisis Centre fundraiser) – McHughs, Sankzkrit & Angel Pier – Spirit Store

 And on the note of Kowalski, who are planning the most extravagant extravaganza at their show tonight (horns, trumpets, choirs, guest vocalists and three drummers), I'll leave you with their regal indie Christmas message from last year. They've promised to post regal indie Christmas message 2007 on the Big Day itself. So excuse yourself from Hot toddies and brandy butter on the premise of a nap (for Christmas day is aaaall about toddies, brandy and naps) and get your MySpace fix of the Seesaw funsters.